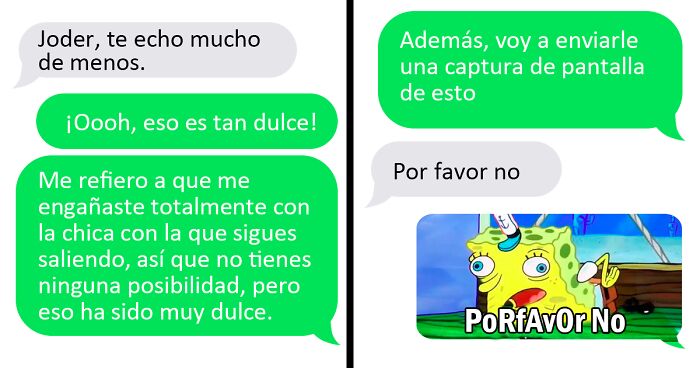 20 Publicaciones que son divertidas pero que también te golpean con la triste realidad (nuevas imágenes)
Las emociones son algo complejo. Cualquiera diría que la tristeza es mala y la risa es buena. Pero la psique humana es mucho más complicada que eso, y las cosas nunca son sólo blancas o negras.
Por eso, para ver cómo funciona en la práctica, nos sumergimos en una colección de posts que, al mismo tiempo, te arrancarán una sonrisa y te dejarán bastante triste. Y gracias al rincón de Reddit "Funny And Sad", (Divertido y Triste), que alberga a 726 mil miembros, ¡hay mucho donde elegir!
Prepárate para una experiencia muy matizada de consumo de Internet, donde las bromas se encuentran con la dura realidad, y donde la realidad no siempre es divertida. Cuando termines, no dejes de ver la primera parte del post aquí.
#2
La cosa más estadounidense que se puede decir sobre los Estados Unidos
Anteriormente, hablamos con la Dra. Lise Deguire, psicóloga clínica y autora de "Flashback Girl: Lecciones de resiliencia de una superviviente de una quemadura", quien afirmó que la tristeza ocasional es una parte normal de la vida: "La felicidad y la tristeza son sentimientos normales que surgen de forma natural a través de los inevitables altibajos de la vida. Cuando las personas son insensibles a sus sentimientos o intentan evitarlos por completo, no experimentarán tristeza, pero tampoco experimentarán mucha felicidad", explicó.
Sin embargo, algunas personas pueden ser más susceptibles a las emociones tristes que otras. Esto puede deberse a muchas razones, pero las experiencias previas, la genética y la mentalidad son las principales responsables. "Esto puede ser en parte genético y en parte debido a experiencias vitales negativas. La mentalidad también es un factor", nos dice Lisa.
"Las personas que tienden a ser pesimistas, que piensan en el futuro con ansiedad y que rumian negativamente el pasado pueden experimentar más tristeza. Sin embargo, se trata de malos hábitos cognitivos que realmente pueden ser ayudados por la psicoterapia."
#4
Parece que está en lo cierto
#5
Cuando te dicen que trabajes duro para ser rico
Pero la mayor parte de los ejemplos de este artículo tienen que ver con el hecho de que plantean un tema que se presenta de forma graciosa pero que en sí mismo no es tan gracioso. Muy al contrario, muchos ejemplos presentan casos de lo que podría llamarse "una dura verdad" que es, como sabemos muy bien, algo bastante difícil de tragar.
En una entrevista anterior, Susan Petang, coach de vida certificada que dirige The Quiet Zone Coaching, dijo a Bored Panda que si la verdad es algo con lo que no estamos de acuerdo, será incómodo escucharla porque todo tiene que ver con nuestras creencias y valores fundamentales, y con la forma en que vemos el mundo.
"Cuando lo que creemos que es cierto sobre nosotros mismos, las situaciones, otras personas o el mundo en general no concuerda con lo que observamos, el resultado es la disonancia cognitiva, es decir, cuando nuestras creencias y nuestras observaciones no concuerdan. Esto puede causar un estrés considerable", explicó.
#7
*Llantos de Millennials y Generación Z*
LO QUE NO TE MATA MUTA Y LO INTENTA OTRA VEZ

Por otra parte, cuando hablamos de la verdad, tenemos que ser conscientes de que en realidad es una cuestión de percepción. A menos que se trate de un hecho declarado y respaldado científicamente, o de una ley de la naturaleza, todas las verdades pueden ser cuestionadas. Así, lo que yo he experimentado como "verdad" puede no ser lo que tú has experimentado como "verdad". Por ejemplo, se podría decir que la verdad es que el agua hierve a 100 grados. ¿O no? Si se utilizan grados Fahrenheit, el agua hierve a 212 grados", dijo Susan.
#10
Dio con el origen del problema
#11
Supongo que la línea de ayuda ¿funcionó técnicamente?
No te vacunes.
Funeraria Wilmore.

#13
Parece que tiene sentido
#14
La sanidad en los Estados Unidos
#15
La guerra de Afganistán ha costado a los estadounidenses 300 millones al día durante los últimos 20 años
#16
Millennials en el congreso
#17
¿Texas, el estado de una estrella?
#18
Mi tipo de compras favorito
#19
Buen trabajo, hermanita
#20
En esta situación no podemos hacer otra cosa que reírnos