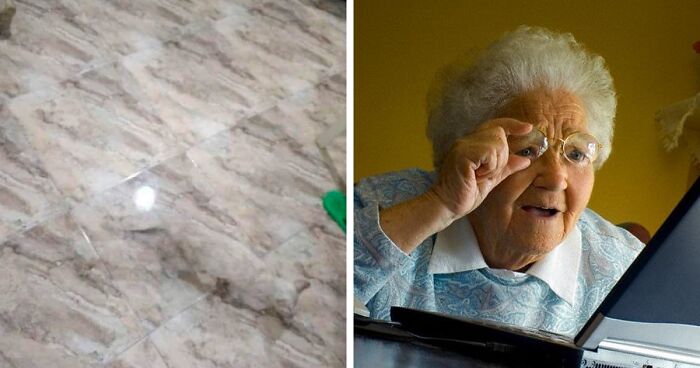 30 Imágenes que podrán a prueba tu capacidad para encontrar objetos ocultos
Veo, con mi pequeño ojo, ¡algo en el cielo! ¡Algo azul! ¡Algo borroso! ¡Algo puntiagudo! ¡Algo que se puede comer! ¡Algo que no estaría permitido en un avión! ¡Y algo que me encantaría recibir como regalo de cumpleaños!
Cuando eran niños, ¿llenaban los viajes largos en coche y los vuelos en avión con el clásico juego del "Veo veo"? Hace al menos una década que no lo juego, pero aún recuerdo la emoción de sentir que podía leer la mente de otra persona y saber exactamente cómo estaba tratando de averiguar la primera adivinanza. Aunque es probable que este juego haya desaparecido de sus rutinas habituales a medida que fueron creciendo, no tienen por qué perderse la diversión de buscar frenéticamente un objeto oculto.
Les presentamos el subreddit "Find the Sniper". Visitar este grupo es como desplazarse a través de un interminable juego de "Veo veo" con fotos que pueden hacerlos sentir como si estuvieran volviéndose locos. A continuación, hemos recopilado algunas de sus mejores publicaciones, y les advierto desde ya que es posible que les lleve unos minutos (o hacer zoom, subir el brillo de la pantalla y echar un vistazo a los comentarios) encontrar algunos de los elementos ocultos. Esperamos que disfruten descubriendo lo que se esconde a plena vista, que incluye desde animales hasta piezas de rompecabezas, pasando por bichos disfrazados de hojas. (Eso sí, ¡tengan cuidado de que no les duela la cabeza!).
Asegúrense de votar por las fotos que avergonzarían a "¿Dónde está Wally?", y, además, si les interesa ver más fotos de Panda Curioso que los hagan mirar dos veces, ¡pueden encontrar una lista de "camuflaje" aquí mismo!
#1
Encuentren al cuarto chico
El subreddit Find the Sniper se creó en 2014 y ha estado escondido a plena vista en Reddit desde entonces. Así es, el grupo tiene 86.800 miembros, pero si nunca han oído hablar de él, es probable que lo hayan pasado por alto de la misma forma que nosotros pasamos por alto los detalles ocultos en estas fotos. Hay algo frustrante y satisfactorio en estas imágenes con elementos ocultos que son demasiados fáciles de ver, y está claro que a mucha gente le encanta desafiar a sus cerebros entrando a este subreddit con frecuencia.
No puedo evitar pensar que las imágenes que aparecen aquí son versiones de "¿Dónde está Wally?" o de los clásicos libros del "Veo veo" con esteroides. Cuando era niño me encantaban esas imágenes de colores brillantes, y saber que había encontrado a Wally o al objeto indicado me hacía sentir muy inteligente. Pero la belleza de "Find the Sniper'' es que muchas de estas imágenes no fueron cuidadosamente elaboradas o planeadas. Muchas de ellas ocurrieron por accidente, de manera espontánea, perfectamente sincronizadas o fotografiadas después de que la persona se diera cuenta de lo difícil que era localizar un objeto en la vida real.
#2
Este camuflaje está a otro nivel
Todos los juegos mentales son excelentes para mejorar la concentración, aumentar las capacidades intelectuales y desarrollar la percepción y el pensamiento lateral. Este tipo de juegos requieren no solo estar atentos, sino también mirar más allá de lo obvio, o pensar fuera de la caja, como se suele decir.
¿Sabían que nuestro cerebro busca constantemente autocompletar las imágenes que vemos? Es por eso que encontrar algunas de ellas por momentos es imposible ya que ¡realmente no las vemos! Si miramos una pila de troncos nuestra mente rellenará cada detalle para ver lo que se supone que estamos mirando y nos costará un esfuerzo extra ver algo diferente a lo esperado. Si les interesa pueden aprender mas de los trucos de nuestro cerebro aquí.
Hay cientos de diferentes juegos de mente. Desde los de perspectiva como los objetos ocultos, las ilusiones ópticas o los acertijos visuales, hasta los más dinámicos como el tetris o el sudoku. Si deseas continuar jugando, aquí puedes encontrar algunos divertidos acertijos.
No sé ustedes, Pandas, pero ¡estos juegos me encantan! Y con mucho esfuerzo he logrado hallar todas las sorpresas ocultas. ¿Les faltó alguna? ¿Cuál fue su favorita? Cuéntennos en los comentarios.
#4
Cómo mi camaleón se camufla con mi mochila
#5
Una jirafa escurridiza
#6
Encuentren al perro. Bastante fácil
#8
Encuentren al gran gatito
#10
Fácil de encontrar pero a simple vista es casi imposible
#11
Encuentren las ruedas
#12
Uno fácil, pero igual, encuentren al búho
#13
4 gatitos en el bosque
#14
Encuentren los números
#16
El camuflaje de este leopardo
#18
Encuentren a la otra hiena
#21
Encuentren el helicóptero
#22
¿Dónde está el perrito?
#23
Poco convencional, pero creo que debe ir aquí
#25
Un pan con forma de gato - Nivel fácil
#26
Encuentren al otro gato. Sí, hay dos
#27
Mi jefe me envió esto. Encuentren al gato
#28
Hay algo escondido en las rocas
#29
Hay un puma acechando al alce
#30
Encuentren los dados que tiré