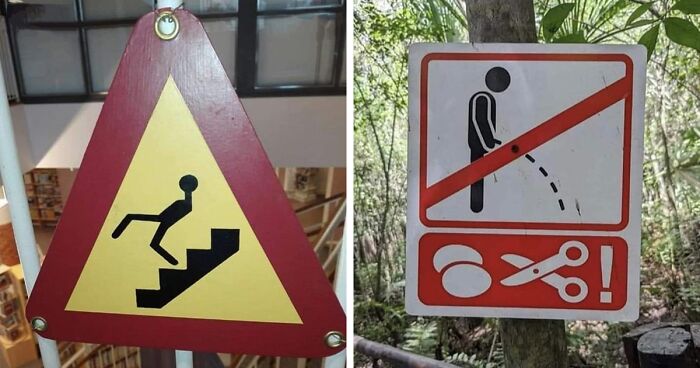 28 Carteles tan divertidos como inesperados que fueron compartidos en Facebook
Los carteles son útiles. Nos guían, nos informan, pero a veces también nos dejan rascándonos la cabeza por puro desconcierto.
Hay un grupo de Facebook llamado 'Rare and Unusual and Funny Signs' (Carteles raros, inusuales y divertidos) y lo que publican no tiene límites. Literalmente. "Por favor, publica cualquier cartel que veas. No hay reglas", escriben quienes dirigen esta comunidad. "Si te ofende por una señal, simplemente pasa, no seas un llorón y te quejes, porque te sacaremos del grupo y te nombraremos y avergonzaremos".
Con 5.000 miembros, 'Rare and Unusual and Funny Signs' no es el más grande de su clase, pero entregan sus productos regularmente. Desde diseños cuestionables hasta errores ortográficos alucinantes y juegos de palabras inteligentes, estas son algunas de sus publicaciones más populares.
No importa lo grande y malo que seas, cuando un niño de 2 años te da un teléfono de juguete, tú respondes.

No entrar en la propiedad. Estamos cansados de esconder los cuerpos.

¡Cuidado! Estos zapatos son la casa de verano de Jabba el sapo. Por favor, no le molestes. Gracias.

El conductor lleva menos de 50$ y está completamente desnudo

Nunca te das cuenta de lo que tienes hasta que ya no está

Cuidado con el conejo que ataca

En este lugar, el 5 de Septiembre de 1782 no pasó nada.

Quiero volver a tener 14 años y arruinar mi vida de forma distinta. Tengo ideas.

En caso de accidente traed queso y galletitas. Muchísimo queso y galletitas.

Aviso, los niños que queden desatendidos serán vendidos al circo

No te rindas con tus sueños, vuelve a dormir

Todos los empleados deben dejar de llorar antes de volver al trabajo

Sí, el agua del retrete está caliente. No, no sé por qué está caliente.

No bucear. Aguas poco profundas. Puedes causarte daños permanentes.

Cualquier cosa que hagas hoy, hazla con la confianza de un niño de 4 años con una camiseta de Batman

PELIGRO, NO TOCAR
Esto no solo te matará, te dolerá todo el rato mientras estás muriendo.

Lávate las manos como si hubieras convencido a tu marido para matar al rey legítimo y ahora no pudieras limpiarte la sangre.

Aviso: La piscina no está actualmente abierta porque está cerrada. Gracias por su comprensión.

Pronóstico para esta noche: Alcohol, bajos estándares y malas decisiones.

Cruce de peatones creativo

Cuidado con las serpientes que caen

No dejes que tus preocupaciones te maten, deja que la iglesia te ayude

No pulsen los botones con los genitales. Hay cámaras vigilando.

Por favor intente caminar sin caminar