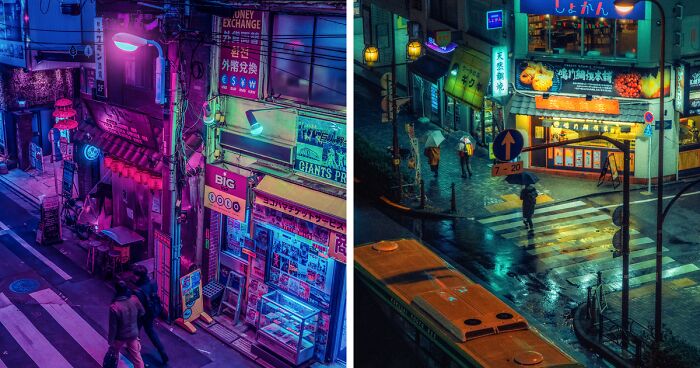 Exploré los callejones nocturnos de Tokio bajo las luces de neón y estas son 30 de las imágenes que tomé
Soy Davide Sasso y éste es mi proyecto fotográfico "Tokyo Dream Distance", una colección de fotos que hice en Japón.
Durante este viaje no tuve un guía turístico ni un experto local, ya conocía algunos lugares, muchos otros no. Fue una decisión consciente porque quería vivir Japón desde cero, aunque eso supusiera perderme por los muchos callejones de Tokio. Esto también me llevó a fotografiar y ver lugares que no son tan turísticos, si pudiera volver haría esta elección de nuevo.
Este viaje ha sido el más bonito de mi vida hasta ahora y estoy deseando volver a Japón. Sin duda me gustaría volver a Tokio otra vez, todavía hay mucho que ver, la ciudad es realmente interminable, pero también me gustaría ver lugares fuera de Tokio, como Osaka y Kioto. Así que gracias Japón, ¡hasta el día en que nos volvamos a ver!
Más información: Instagram | inprnt.com | Twitter | ko-fi.com | Facebook
Ha sido mi primera vez en Japón y me encantaría volver siempre que pueda. Siempre me ha encantado este país, la cultura, la comida... Hay tantos lugares maravillosos. De Tokio a Osaka, de Yokohama a Kioto, éstas son sólo algunas de las increíbles ciudades de este país. Cada una es única y espero visitar tantas como me sea posible.
Me encanta el cine. Entre mis películas favoritas están Akira, Enter the Void, Fallen Angels, Ghost in the Shell y Blade Runner. Todas estas películas tienen una atmósfera increíble que siempre me ha fascinado, así que intenté recrear esa estética en mis tomas.
Tokio es una ciudad muy diferente a las de mi país, así que fotografiar aquí fue todo un reto. Pero debo decir que es una ciudad llena de luces y colores, y eso da un montón de ideas interesantes tanto para tomas diurnas como nocturnas. Además, es una ciudad que nunca está quieta, en la que siempre pasa algo, así que fue muy divertido fotografiar allí. Yo la definiría como un gran patio de recreo para los fotógrafos.
Tengo muchas ideas y proyectos que me gustaría realizar. Uno de ellos en el que estoy trabajando se llama "Anime City Pop" y recoge una serie de fotografías que replican en la medida de lo posible la estética del anime, en concreto, la del Studio Ghibli, ¡que me encanta!