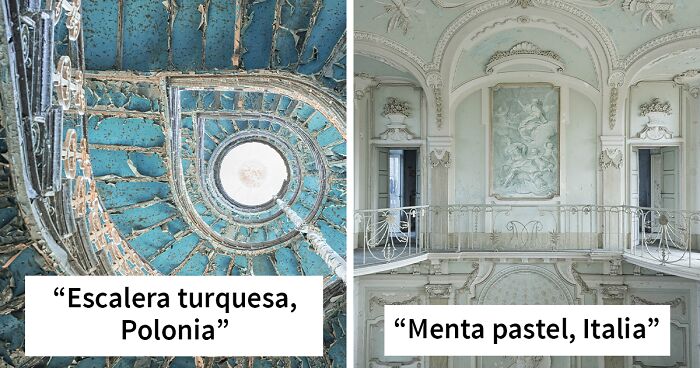 He viajado por Europa fotografiando la elegancia de lugares abandonados (20 imágenes)
Mi nombre es Romain Thiery y soy un artista-fotógrafo, nacido en 1988 en Francia. Actualmente vivo cerca de Montpellier, al sur de Francia.
El abandono, el olvido y la exploración de lo inusual me fascinan. Me sumerjo en estos espacios que todo el mundo cree que están vacíos, y deambulo allí durante horas. Este es el objetivo de mi arte: conquistar las claves de la vida que la gente cree que están muertas, y capturar estos increíbles sitios con mi cámara. Busco fotografiar estos ambientes pacíficos, y que las texturas y la luz que llenan estos sitios salten a la vista de las personas curiosas sobre mi arte. Principalmente, me enfoco en pianos abandonados de todo el mundo. Pueden echarles un vistazo a mis fotografías de pianos aquí, aquí, aquí, aquí, aquí y aquí.
"Las villas viejas, los castillos y las mansiones en ruinas son verdaderos testigos de una elegancia pasada. El ojo de mi equipo es universal. Ofrecerá una visión renovada, majestuosa y olvidada de estos hogares que, ahora, no tienen vida".
Más información en: romainthiery.fr | Instagram | Facebook
En 2008, en las alturas de un pueblo francés, descubrí un pequeño castillo del siglo XIX. Todo estaba destruido y vacío: el lugar había sido saqueado. El robo, usualmente, es lo que sucede luego del abandono. Estas situaciones suelen estar relacionadas con conflictos de herencias que quedan sin resolverse. En el primer piso, descubrí un piano en medio de un cuarto destruido. La chimenea estaba rota. Las riquezas y los objetos con valor ya habían desaparecido. Solo quedaba ese piano. Pensé que debía haber más cosas. El piano era el alma del lugar, ya que, aun en el medio de este espacio arruinado, no dejaba de conservar su poder. Estaba ahí, reinando con toda su nobleza. Ese fue el día en el que tuve la idea de decidir embarcarme en una aventura para explorar sitios abandonados y hallar a estos gigantes silenciosos.
Comencé esta clase de exploración urbana de fotografía y comencé a recorrer sitios cada vez más lejos de mi hogar. Y, paralelamente, intenté conectar mis dos pasiones (el piano y la fotografía) en un mismo proyecto: Requiem Pour Pianos. Mi modus operandi consiste en explorar edificios históricos abandonados y descubrir pianos viejos, a menudo sin teclas, devastados por el despiadado paso del tiempo. Al comienzo, la fotografía era solo un pasatiempo, pero, al poco tiempo, decidí usar este medio como un artista. Desde allí, es mi ocupación principal. Uno de mis más grandes deseos es capturar los restos de los pianos que han sido olvidados, justo antes de que el tiempo los volviera invisibles. Mi dedicación dio sus frutos. Desde 2014, descubrí más de cien pianos abandonados y visité más de 400 sitios deshabitados de todo el mundo.
#2
Escalera turquesa, Polonia
Además, soy un pianista aficionado fanático de Chopin, Bach, Beethoven y Satie. Empecé con la fotografía hace 15 años, siguiendo el trabajo de mi madre, que se especializaba en fotografía histórica. Este pasatiempo se convirtió en una pasión y, eventualmente, en una profesión, cuando descubrí un piano olvidado en un castillo abandonado al sur de Francia. Creo que el piano es algo profundamente arraigado en las bases de nuestra cultura, y he intentado explorar este instrumento desde un punto de vista original. La producción de esta serie no deja nada al azar. Me ofrece el privilegio de combinar mis dos pasiones: las imágenes y la música.
Combiné mi misión de vida con mis dos pasiones más grandes, y me propuse encontrar mansiones deshabitadas en toda Europa donde hubiera pianos abandonados. Además de investigar sobre pianos, mi cámara me permitió hallar lugares increíbles en Europa y otros sitios, los cuales he fotografiado sin montar ninguna puesta en escena. Busco la belleza del lugar. La naturaleza es conquistadora sin dejar de ser pacífica, fascinante y, a veces, preocupante. Invade las fachadas, toma los pasillos y se trepa en las columnas. La imaginación es constantemente evocada por estas huellas de vida, estos fragmentos de memorias.
Primero, usaba Google Earth para encontrar lugares abandonados, aunque no estaba seguro de que encontraría pianos en ellos. Pero mi investigación se enfocó en castillos, palacios y edificios culturales donde los tipos de familias que los habitaban solían tener un piano. También, buscaba fotos viejas y revisaba si había pianos allí. Fui afortunado de tener amigos en todo el mundo que me ayudaron mucho. Ahora, es más fácil para mí, porque tengo la suerte de contar con cierta notoriedad gracias a mi trabajo artístico y, con frecuencia, las familias me escriben directamente.
Para mí, el aspecto más emocionante de este trabajo son las emociones que puedo sentir. En pocos minutos, paso del estrés al temor, al entusiasmo y a otras emociones fuertes. Es raro experimentar tantas emociones diferentes en la vida cotidiana. Y, claro está, mi mayor desafío es hallar un sitio abandonado que se ajuste a los criterios de mi enfoque artístico, y encontrar un piano donde nadie lo esperaría.
En los últimos años, gané premios internacionales en varias competencias y festivales, como el premio de oro del New York Photography Festival, el primer lugar en el Tokyo International Foto Awards, finalista del Urban Photo Awards en Italia, fotógrafo del año en el Moscow International Foto Award (MIFA), finalista del Open Call of the Indian Photography Festival y finalista del Open Call of the Israel Photography Festival. Mis exposiciones personales han sido presentadas en muchos países, como Francia, Italia, Noruega, Alemania, Eslovenia, Reino Unido, Rusia, Canadá, Estados Unidos, Israel e India.
#8
Manicomio Di G, Italia
#10
Salón de baile turquesa, Alemania
#11
Castillo blanco, Francia
#13
Capilla dorada, Francia
#18
Villa Minette, Italia
#20
Salón de baile, Alemania