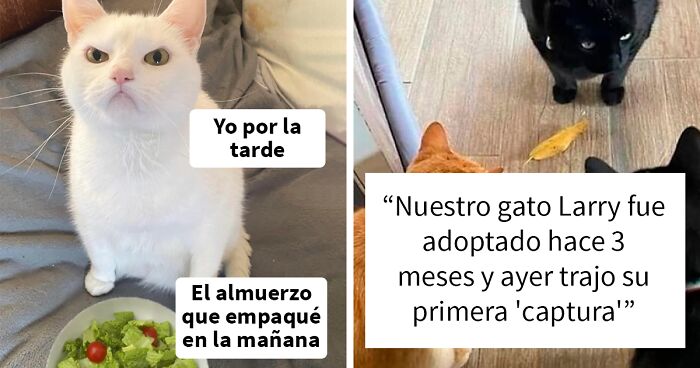 25 Fotos y memes que captan perfectamente cómo es vivir con gatos
Digan lo que quieran, pero internet es lo mejor que les ha pasado a los gatos. Estas hermosas criaturas gobiernan, sin dudas, nuestra presencia en línea, ya sea haciendo las caras más graciosas o mostrando sus lindas y (¡afiladas!) garras. ¡Y les agradecemos por su servicio! Porque imagínense lo aburrido que sería este lugar sin una dosis diaria de divertidas travesuras felinas. Piensen en lo miserable que seríamos sin las adorables fotos de gatitos llenando nuestras pantallas.
Para que esto nunca ocurra te presentamos una de las páginas más divertidas de Facebook dedicadas a los felinos. Aunque no podemos mencionar su nombre, este proyecto de red social cuenta con más de 1 millón de seguidores, ¡y es realmente brillante! Está dedicado a un sinfín de divertidos memes y adorables fotos de gatos que dan vueltas por el ciberespacio, y no nos cansamos de su contenido.
Este es el lugar perfecto para hacer reir y enternecer a cualquier padre de uno de estos ocurrentes seres. Por ello, hemos reunido, a continuación, algunas de nuestras publicaciones favoritas para compartirlas con todos ustedes. Además, más abajo encontrarán una entrevista exhaustiva con Sally Chamberlain, conductista clínica de animales del Reino Unido. Luego, podrán votar por sus publicaciones favoritas y ¡asegúrense de decirnos en los comentarios que fotos les gustaron más!
Más información: Facebook
El panorama digital está saturado de gatos; ha sido así desde los inicios de Youtube hasta los orígenes de las redes sociales. Nuestros queridos felinos siguen siendo los iconos más universales que han inspirado algunos de los mejores memes: Grumpy Cat, Chemistry Cat, Smudge the Cat, la lista es interminable. Hoy en día, hay millones de videos e imágenes de gatos navegando en la esfera de Internet que alimentan a nuestra fascinación peluda, y nunca nos cansamos de ellos. Pero nuestra fijación por estos bichitos nos lleva a preguntarnos: ¿Por qué son tan especiales?
Para llegar al fondo de la cuestión nos pusimos en contacto con Sally Chamberlain, una conductista clínica de animales radicada en el Reino Unido y autora de Power Of The Purr. Como le apasiona su trabajo fundó Karma Paws Pet Care donde ofrece consultas, adiestramiento felino y asesoramiento preventivo.
"Los gatos son especiales porque, a diferencia de muchas otras especies domesticadas, conservan muchos de sus instintos salvajes y tienen una naturaleza independiente. Son bellas criaturas con un aire de misterio", explicó a Bored Panda. "Aunque he estudiado el comportamiento de los felinos durante muchos años, a menudo, pueden ser bastante difíciles de entender y cada gato tiene su propia personalidad".
Las extrañas payasadas y divertidas travesuras que realizan los gatos pueden crear una falsa imagen sobre ellos porque, en realidad, los gatos no son tontos ni mucho menos. "Gran parte del comportamiento felino se basa en el hecho de que son cazadores solitarios por naturaleza. Necesitan confiar en su inteligencia para buscar lugares seguros para descansar y también encontrar buenos sitios para cazar", explicó Chamberlain.
La especialista en comportamiento animal mencionó que se cree que los gatos son tan inteligentes como un niño pequeño cuando se trata de entender los gestos humanos como señalar. "Los gatos también tienen el sentido de la permanencia de los objetos que es esencial para darse cuenta de que cuando su presa se pierde de vista no se ha ido para siempre. Los gatos esperarán muchas horas a la oportunidad adecuada para buscar y abalanzarse sobre su presa, especialmente si la caza es su única fuente de alimento".
Curiosamente, también pueden ser adiestrados del mismo modo que otros animales, como los perros. En contra de la creencia popular, los felinos pueden aprender a hacer las cosas que sus padres humanos quieren que hagan. "Mediante el refuerzo positivo pueden aprender a hacer todo tipo de cosas: desde aprender a venir cuando se les llama hasta chocar los cinco, correr por un circuito de agilidad y resolver rompecabezas de comida", nos comentó Chamberlain.
Si crees que tu pequeño se comporta de forma fría e indiferente hacia tus esfuerzos de acercarte, Chamberlain mencionó que en realidad los gatos sienten afecto por sus dueños y lo demuestran de varias formas. Solo tenemos que estar atentos para darnos cuenta. "Los gatos pueden crear fuertes vínculos con los humanos. Los gatos domésticos tienden a mostrar afecto hacia los humanos de forma similar a como lo harían con otros gatos".
"Los gatos no suelen tocarse entre sí por naturaleza, pero cuando lo hacen, se frotan con las mejillas o el cuerpo (allorubbing) o se acicalan unos a otros (allogrooming). Ambas cosas crean un olor común entre los gatos para que puedan identificarse fácilmente y se sientan seguros en su entorno", explicó y añade que se comportan de forma similar con los humanos".
Siempre podemos mejorar nuestra actitud para ganarnos su amor. Una forma de hacerlo es darles la sensación de elección, consistencia y control. "Cuando un gato puede elegir acercarse a un humano para recibir afecto en sus términos, es más probable que confíe en esa persona y forme un vínculo".
La experta sugiere optar por un breve contacto visual y parpadeos lentos que indican que no eres una amenaza. "A algunos gatos no les gusta el contacto físico, pero disfrutan estar cerca de ti", añade. "Este tipo de gatos necesitan que sepas cómo darles afecto en sus condiciones y mucho espacio. Puedes ofrecerles jugar con un juguete de caña y algunas golosinas para reforzar aún más el vínculo que comparten".
"Todo es cuestión de averiguar, con consideración, cuáles son sus preferencias. Una vez que un gato ha decidido que eres su amigo, es probable que lo seas de por vida".