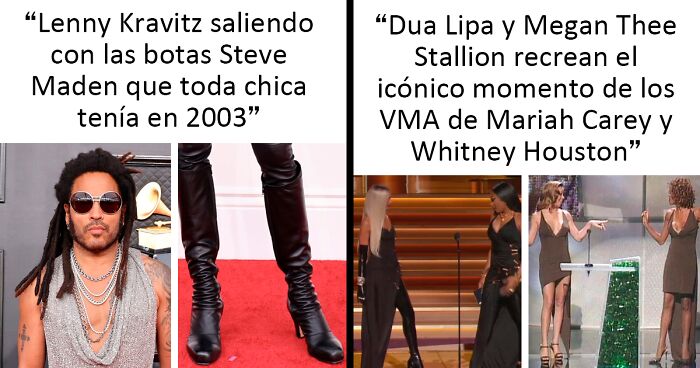 20 Memes y reacciones a los Grammys que casi son mejores que el propio espectáculo
A la gente le gusta ser recompensada por el trabajo que hace y algunos logros se celebran de una forma más extravagante que otros. Probablemente se podría encontrar un premio para la mayoría de las profesiones, pero los más importantes que se difunden a nivel mundial tienen que ver con la industria del entretenimiento.
Todavía no nos hemos recompuesto después de todo lo ocurrido en los Oscar, pero las galas de premios no nos esperan. Una de las mayores galas de premios musicales del año, los Grammy, tuvo lugar el 3 de abril y, como todo gran evento cultural, provocó muchas reacciones en Internet.
Los Premios Grammy, también conocidos como los Grammys, son los primeros grandes premios de la música que se conceden al año. Les siguen los Billboard Music Awards en verano y los American Music Awards en otoño.
Los premios Grammy de este año tuvieron lugar en el MGM Grand Garden Arena de Las Vegas el 3 de abril de 2022. Los premios suelen celebrarse a finales de enero o en la primera quincena de febrero, pero debido a los crecientes casos de Covid-19 en EE.UU., el espectáculo se pospuso.
Los premios recibieron casi 22.000 propuestas de canciones y álbumes y luego los miembros votantes de la National Academy of Recording Arts and Sciences (NARAS) redujeron ese número seleccionando a los nominados y volviendo a votar para elegir al ganador.
Los artistas fueron nominados en 86 categorías, pero no todas fueron emitidas. El artista que recibió más nominaciones fue Jon Batiste. De las 11 categorías a las que estaba nominado, se fue de los Grammy con 4 premios.
Las categorías más prestigiosas son las de ámbito general, ya que no están definidas por categorías y son las mejores en conjunto. Leave The Door Open de Silk Sonic ganó el Disco del Año, We Are de Jon Batiste fue proclamado como el Álbum del Año, Leave The Door Open de Silk Sonic también triunfó en la categoría de Canción del Año y Olivia Rodrigo fue reconocida como Mejor Artista Revelación.
Aunque se trata de una gran gala de premios musicales, algunos artistas se niegan a participar en el evento porque consideran que la Recording Academy que organiza los Grammy no está siendo justa. Los artistas con un gran número de nominaciones sólo ganan en las categorías secundarias y no reflejan lo que ocurre en las listas de éxitos musicales, que muestran qué artistas, canciones y álbumes son los más populares entre los oyentes habituales.
Este año hubo bastantes artistas que se retiraron de los premios Grammy. Drake estaba nominado al mejor álbum de rap por "Certified Lover Boy" y a la mejor interpretación de rap por su canción "Way 2 Sexy" con Future y Young Thug, pero se retiró. Ariana Grande también estaba nominada a varios premios, incluido el de Mejor Interpretación Pop en solitario, pero no llegó a la ceremonia.
The Weeknd decidió boicotear los Grammy ya que fue invitado a actuar pero no fue elegido en ninguna de las categorías como nominado. Otros artistas también han hablado de no asistir a los premios a lo largo de los años porque pensaban que ya no se trataba de la música.
Los premios también fueron criticados por tener un sesgo racial y no tratar a las mujeres nominadas igual que a los artistas masculinos. Parece que las polémicas que rodean a los Grammys también repercuten en la audiencia, ya que suele rondar los 20 o 30 millones, pero el año pasado sólo 8,8 millones de personas se interesaron por verlos.
¿Has visto los Grammys este año? ¿Estás de acuerdo con la gente que dice que no ganan los premios los artistas que más los merecen? ¡Háznoslo saber en los comentarios! También muéstranos qué memes y reacciones te han hecho reír más votándolos.