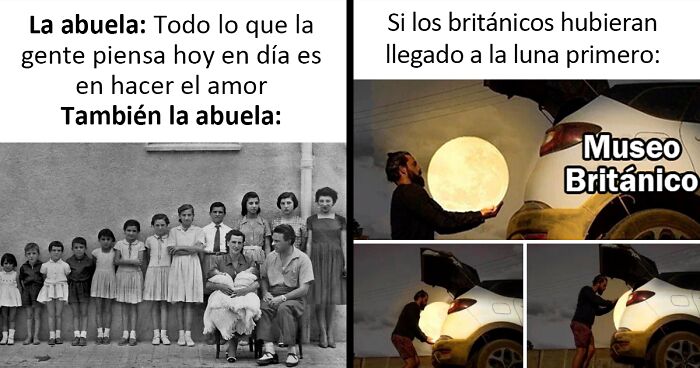 20 Memes tan acertados como divertidos que los frikis de la Historia apreciarán
¿Te consideras un aficionado o aficionada a la historia? ¿Tus compañeros creen que eres un genio a la hora de descifrar hechos intrigantes sobre el pasado? Pues estás de suerte, porque sumergirse de lleno en acontecimientos que sucedieron hace siglos y conocer a personas influyentes que ya no están es una aventura en sí misma. Pero cuando se combina con un gran sentido del humor, es un placer.
Así que permítenos presentarte un entretenido rincón en Facebook llamado "History for the Witty" (Historia para los ingeniosos). Este proyecto de redes sociales se dedica a contar chistes, memes y bromas ingeniosas sobre los viejos tiempos. Con casi 130.000 seguidores, su objetivo es demostrar que si se añade un poco de diversión a las anécdotas históricas se obtienen combinaciones excepcionalmente divertidas, y ellos lo demuestran.
Para mostrarte lo que queremos decir, nuestro equipo de Bored Panda, amante de la historia, ha reunido algunas de las mejores publicaciones de la cuenta. Así que sigue desplazándote, vota tus memes favoritos y asegúrate de contarnos cuáles son los que más te han gustado y por qué. Y como no nos cansamos de este tema y de las divertidas bromas al respecto, no dejes de consultar nuestros anteriores posts repletos de memes de historia aquí y aquí.
¿Quién dice que la historia tiene que ser aburrida? Definitivamente, no la página de Facebook en cuestión. Lleva tiempo cautivando la imaginación de sus seguidores al compartir sus conocimientos con una buena dosis de humor. Desde que se creó el proyecto de redes sociales "History for the Witty", se ha convertido en la salida perfecta para cualquier persona a la que le guste reírse y tenga debilidad por los libros antiguos, los manuscritos polvorientos y los acontecimientos relacionados con nuestro pasado.
Sólo con la descripción ya se puede decir que al creador de esta página le gusta divertirse. "Puedes rebelarte con seguridad aquí, sólo recuerda que se cazan más moscas con miel... espera, ¿por qué quiero moscas? No importa... publica tus bromas aquí", escribió.
Al utilizar el trasfondo histórico para alimentar sus bromas, la página se asegura de que cualquiera que alguna vez haya considerado erróneamente la historia como un tema aburrido cambie de opinión. ¿Y qué mejor medio para transmitir este mensaje que los trozos de información bien empaquetados a los que nos referimos como memes?
Las comunidades online como ésta, que presentan los hechos de forma ingeniosa, despiertan el deseo de aprender más. Al presentar hechos que sucedieron hace años, también ofrecen un espacio para aprender cómo se construyeron las sociedades y culturas del pasado, y cómo funcionaron y cambiaron con el tiempo. A medida que nos llenamos la cabeza de conocimientos, buscamos los hechos de los que quizá no nos habíamos dado cuenta antes (y nos entretenemos compartiendo risas por el camino), comprendemos mejor el presente.