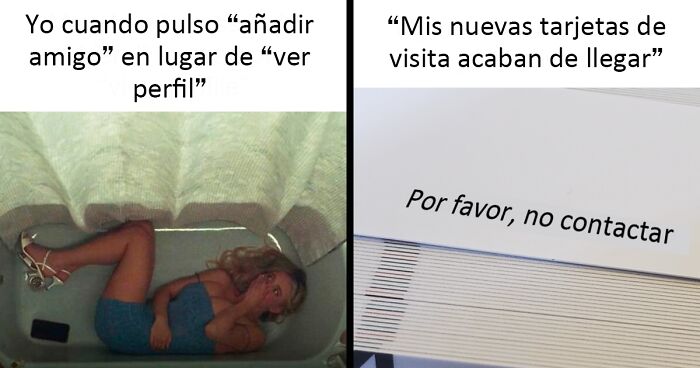 20 Memes dolorosamente divertidos sobre ser introvertidos, compartidos en este grupo online
¿Tu noche de viernes ideal incluye quedarse en casa y leer un libro acurrucado con tu gato, en lugar de ir a una fiesta? ¿Estás encantado cuando no hay nadie más en casa y tienes la casa para ti solo? ¿Te sientes agotado después de una hora de interacción social? Introvertidos del mundo, ¡uníos!
Hemos revisado todas las mejores publicaciones del grupo de Facebook Introvert Memes para encontrar las fotos más dolorosamente familiares con la gente más casera. El grupo cuenta con más de 76.000 miembros, lo que demuestra que, aunque los introvertidos sean silenciosos, son poderosos. Al parecer, también son divertidos. Así que busca un lugar agradable y aislado, sin que ningún extrovertido te interrumpa, y disfruta de un poco de paz, tranquilidad y memes. Sigue leyendo para encontrar también una entrevista con Jenn Granneman, fundadora del galardonado blog Introvert, Dear. Asegúrate de votar todos los posts en los que te veas reflejado, y si estás interesado en más contenido sobre introvertidos después de terminar esta lista, echa un vistazo a este artículo de Bored Panda.
Nos pusimos en contacto con Jenn Granneman, fundadora de Introvert, Dear para que nos diera su opinión un experto. En primer lugar, queríamos saber en qué se inspiró para crear una comunidad para introvertidos y cómo ha sido verla florecer. "Empecé Introvert, Dear en 2013 como mi blog personal. Estaba saliendo con un hombre extrovertido, trabajando en un trabajo extrovertido (enseñanza) y viviendo con un compañero de piso extrovertido. Quería escribir sobre cómo era ser una introvertida viviendo en un mundo de extrovertidos", explicó Jenn. "Durante casi dos años, escribí el blog de forma anónima porque no quería ser el centro de atención. Hoy, mi blog se ha convertido en la mayor comunidad online del mundo para introvertidos y personas muy sensibles. Con la ayuda de los "silenciosos" de todo el mundo, tengo una misión: mostrar a los introvertidos y a las personas altamente sensibles de todo el mundo que está bien ser quienes son".
También le preguntamos a Jenn qué significa para ella ser introvertida. "Ser introvertida significa simplemente que prefiero socializar de forma diferente a los extrovertidos", nos dijo. "Me encanta mantener conversaciones significativas con una o dos personas a la vez, en lugar de mantener conversaciones triviales con un grupo grande. Me relaciono con poca frecuencia y en breves momentos, y necesito mucho tiempo de inactividad para recuperar la energía. Hay veces que puedo asistir a una gran fiesta o a un concierto, pero en general prefiero pasar el rato en casa o en espacios íntimos. Puedo entablar conversaciones triviales, pero me cuesta mucho esfuerzo, así que las evito siempre que puedo. Aprecio la soledad. Mis "planes" favoritos para el fin de semana no son ningún plan. Suelo seguir pensando en ciertos temas, problemas o experiencias mucho después de que otras personas se hayan olvidado de ellos o hayan pasado a otro tema. Expongo mi punto de vista utilizando pocas palabras en lugar de cientos".
También le preguntamos a Jenn si cree que los introvertidos suelen ser incomprendidos. "Sí, los introvertidos siguen siendo incomprendidos, a pesar de la atención positiva que han recibido en los medios de comunicación en los últimos años", nos dijo. "Cuando eres una persona callada que no dice mucho, es fácil que la gente te malinterprete". Queríamos saber si también había alguna idea errónea que Jenn pudiera disipar sobre los introvertidos. "Que nuestra necesidad de soledad tiene que ver con nosotros, no con las personas de nuestra vida", explicó. "A veces nuestros amigos y seres queridos se sienten heridos o rechazados cuando pasamos tiempo a solas. No debería ser así: los introvertidos necesitan ese tiempo de inactividad para recuperar su energía. No se trata de ti, sino de nosotros. Si tienes una persona introvertida en tu vida, no te sientas herido si ocasionalmente rechaza tus invitaciones o te pide pasar la noche a solas".
Por último, Jenn añadió que tiene un libro que saldrá en la primavera de 2023 titulado Sensitive: The Hidden Power of the Highly Sensitive Person in a Loud, Fast, Too-Much World (Sensible: El poder oculto de la persona altamente sensible en un mundo ruidoso, rápido y excesivo). Si quieres saber más sobre ser introvertido o ser el primero en saber cuándo sale su libro, asegúrate de seguir a Jenn en Introvert, Dear aquí.