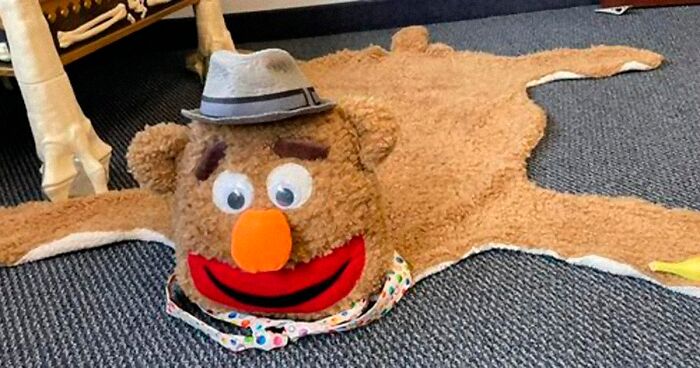 20 Objetos que desprenden un aura muy amenazadora
Nada es inmune a tener un aura amenazadora, ni siquiera los animales, la comida, las habitaciones, los anuncios o, incluso, los baños. Así que, si se detienen un segundo a mirar a su alrededor, lo más probable es que encuentren alguna de estas almas amenazadoras escondida tanto en cosas vivas como inanimadas.
Existe un grupo de Facebook llamado "Objects With Threatening Auras" (u "Objetos con auras amenazadoras") que se dedica a compartir ejemplos de cosas que la gente creyó que tenía este tipo de aura. Eso incluye artículos de todos los días, como una lata de comida hasta una señal de tráfico, además de monstruosidades más elaboradas hechas por humanos, como muñecos extraños y muebles que se ven más espantosos que cómodos.
A continuación, recopilamos algunos de los ejemplos más espeluznantes y entretenidos de objetos con auras malditas que fueron compartidos en el grupo, así que ¡acérquense a verlos!
Para conocer más sobre el grupo de Facebook "Objects with Threatening Auras ", en Panda Curioso hablamos con Jojo Lynne (una de las moderadoras, de 26 años) que colecciona artículos de Magikarp, patitos de goma y todos los objetos con auras amenazadoras con los que se encuentra.
"El grupo fue creado a partir de un regalo que me obsequió mi pareja hace algunos años", recordó Lynne. "Me envió una foto de un trozo de plomo en el que había trazado 'Te amo'. Le dije que lo trajera a casa y ¡lo hizo!". Ahora, Lynne dijo que guardan ese trozo de plomo en el armario, fuera de su alcance.
Lynne dijo que la comunidad detrás del grupo de Facebook "Objects with Threatening Auras" es maravillosa. "Hacemos nuestro mejor esfuerzo para fomentar un ambiente inclusivo y divertido. Puede que las preguntas que hacemos cuando alguien desea entrar lo reflejen mejor", explicó.
Con respecto a estas preguntas, Lynne dijo que recibe muchos mensajes sobre la que habla del carrito de compras. "Para aclararlo, se basa en una publicación sobre qué tipo de personas regresan el carrito cuando pueden y cuáles no. Es una pregunta insignificante y divertida, pero también me da una pequeña idea de quiénes se unen al grupo", explicó la moderadora.
Cuando le preguntamos sobre el contenido que se comparte en "Objects with Threatening Auras", Lynne nos contó que todas las publicaciones son revisadas primero por los moderadores. "Me aseguro de que el contenido sea relevante al nombre del grupo y filtro lo que no encaja con ello. Usualmente, les envío un mensaje a esos miembros para hacerles saber por qué su publicación fue rechazada", dijo. Lynne también agregó que no publican material abiertamente ofensivo ni cualquier cosa que pueda incitar a discusiones.
Y, con respecto a cuál es el adorable atractivo de las auras amenazadoras, Lynne argumentó: "Lo que ocurre con las auras amenazadoras es que no esperas sentirse amenazado por un objeto".
Explicó: "Existen objetos que se supone que sean amenazadores, y otros que no. Con tantas cosas amenazadoras reales, creo que los objetos que solo tienen esa vibra nos resultan graciosos. Como existe un número ilimitado de 'Objetos con auras amenazadoras', ¡eso hace que sea interesante para todos!".
Hasta ahora, Lynne no tiene planes para el futuro del grupo. "Definitivamente podría resultar útil contar con administradores en el futuro, ya que soy la única persona que modera el grupo hoy en día y me encantaría ver que se desarrollara más".
Espeluznante, ¡¿cierto?! ¿Cuáles son sus imágenes favoritas? ¡No se olviden de votar por ellas! Pandas amantes de lo creepy, si también les interesan los videos con contenido misterioso, oculto y perturbador, les recomendamos visitar los canales de los youtubers latinoamericanos Dross Rotzank, Paul Landó, Zador Trazador de Pesadillas y el del español BreakMan. En ellos, podrán encontrar historias verídicas y relatos de misterio y paranormales para todos los gustos, desde los más terroríficos hasta algunos orientados hacia el humor y lo bizarro. Y, por supuesto, si tienen algún comentario o recomendación para hacernos, ¡compártanlos más abajo!