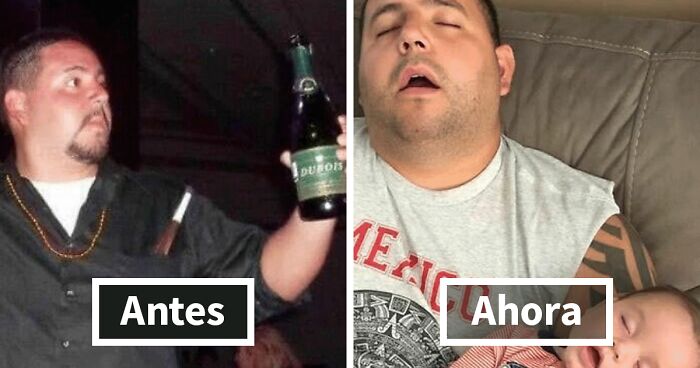 30 Divertidas fotos de padres demostrando lo mucho que cambia tu vida al tener hijos (nuevas imágenes)
Tu vida cambia por completo cuando tienes hijos. Puede que pienses que sabes el cambio de estilo de vida que te espera, dulce panda de verano, pero no hay nada que pueda prepararte completamente para la paternidad.
Es un viaje salvaje con intensos desafíos, un agotamiento interminable y una sensación general de que el caos podría ser realmente el estado fundamental del universo. Las fiestas con amigos y los pasatiempos activos se transforman en cambios de pañales y siestas de 5 minutos donde y cuando puedas. Pero al final todo merece la pena.
La página de Instagram "Got Toddlered" es un fantástico archivo digital que muestra lo enormes que pueden ser estos cambios. Los padres envían sus fotos de cómo eran antes de crear una familia y las fotos después de ser padres. Son divertidísimas, muy familiares y nos recuerdan un hecho reconfortante: ¡estamos todos juntos en esto! Vota positivamente tus fotos favoritas, panda. Y si eres padre o madre, nos encantaría saber qué consejo le darías a alguien que acaba de tener su primer hijo.
Aquí en Bored Panda, somos grandes fans de 'Got Toddlered'. Cuando hayas disfrutado al máximo de esta lista, no dejes de consultar nuestros anteriores reportajes aquí: Parte 1, Parte 2 y Parte 3. Y no dejes de seguirlos en las redes sociales si te han gustado las fotos.
Más información: Instagram (Got Toddlered) | Instagram (Dad and Buried) | Facebook | Twitter | Podcast | Patreon
#1
También las casas se transforman tras la llegada de los niños
#2
De conejita de Playboy a ¡esto ya no es divertido!
#3
De destapar botellas a dormirse con la boca abierta (¡qué lindo está ese bebé!)
La página de Instagram "Got Toddlered" es obra de Mike Julianelle, de Brooklyn. También es el fundador del popular proyecto de redes sociales "Dad and Buried" y el creador de un podcast con el mismo nombre. Es un fanático de los juegos de palabras, el ingenio y el buen humor.
La última vez que Bored Panda habló con Mike, éste bromeó: "Mira, no odio a mis hijos, solo odio ser padre. Eso es realmente a lo que se resume, y es la premisa detrás de todas mis cosas de Dad and Buried -mi blog, mi página de Instagram, mi Facebook y mi podcast- y mi cuenta de Got Toddlered."
#4
De "¡Estoy en un bote!" a "¡Soy un bote!"
#5
De que te carguen en brazos a desmayarte cargando a tu bebé
#6
Hay una razón de por qué solo el bebé está sonriendo
Según el fundador de 'Got Toddlered' y 'Dad and Buried', la paternidad es "desafiante y frustrante y costosa y agotadora y estresante y aburrida."
"Y aunque mis hijos suelen ser también todas esas cosas, no me arrepiento de haberlos tenido. Cómo te atreves a sugerir tal cosa solo porque de vez en cuando hago bromas y memes que lo hacen parecer así!" dijo Mike a Bored Panda durante una entrevista anterior.
#7
De cargada a cargadora
#8
De tener todo en su lugar a qué demonios está pasando
#9
De ser la mejor a sacarte leche
"Me burlo y trolleo a mis hijos, y destrozo y ridiculizo a los padres y a la crianza de los hijos, y a mí mismo, porque ese es mi sentido del humor, y mi sentido del humor es lo que me mantiene cuerdo en medio del paisaje infernal que todo lo consume de intentar proteger y criar a seres humanos en miniatura ignorantes, sin formación y autodestructivos", dijo.
La última vez, Mike compartió lo estresantes que pueden ser las cosas cuando tienes que cuidar a toda una familia, no solo a ti mismo. "Hace poco tuve una entrevista de trabajo", se sinceró con Bored Panda allá por 2019.
#10
De modelo de trajes de baño a mula de carga
#11
De estar en lo más alto a caer con la cara. ¡Incluso su bebé está impresionado!
#12
De estar en la cima a que te pongan el trasero encima
"Las entrevistas de trabajo son estresantes independientemente de la etapa de la vida en la que te encuentres, pero, como todo, tener hijos eleva el estrés exponencialmente. Ya no solo me mantengo a mí mismo, y ahora hay mucho más en juego; las consecuencias de fracasar en una entrevista de trabajo son mucho más intensas. Y también lo era llegar hasta allí, porque tenía que llevar a mi hijo pequeño conmigo", dijo antes.
"Al estar desempleados, no podíamos permitirnos una guardería, así que tuve que ir en metro, con un traje completo, en uno de los días más calurosos del verano, con mi hijo pequeño en mi regazo y/o durmiendo la siesta a mi lado. Por suerte, no tuve que llevarlo a la entrevista, sino que pude dejarlo con mi mujer. La logística de todo esto -la programación, el viaje, la entrega, el llevar a un niño pequeño dormido por Manhattan mientras el sudor caía sobre mí como una cascada, etc.- fue increíblemente complicada", dijo Mike.
"Nada de esto era ideal. Pero tenía que hacerlo, tenía que dar lo mejor de mí para el trabajo, para poder mantener a mi familia y, lo que es más importante, para poder salir de mi casa. No puedo soportar ser un papá que se queda en casa ni un minuto más", bromeó.
#13
De vestirse como un animal salvaje a criar a un animal salvaje
#14
De darte un remojo en la playa a simplemente mojarte
#15
De Blanca Nieves a Gruñón (por obvias razones)
#16
De un zombi de mentiras a uno real
#17
De novia radiante a bolsa de vómito. ¡Y mira a ese chico malencarado después de su gracia! "¿Quieres un poco?" ¡Eso le enseñará a recordar la vida antes de ser madre!
#18
De criada francesa sexy a criada normal
#19
Desde lucir un rosa intenso hasta dejarse picar la barriga. ¡Estos malditos niños no tienen vergüenza!
#20
De andar de traje a perder un ojo
#21
Usar las dos manos solía ser más divertido
#22
De estar lista para rockear a solamente querer descansar
#23
De "namasté" a "¡compórtate!"
#24
De usar un espectacular escote a dar pecho en medio del desorden
#25
De chupitos a vasos antiderrames
#26
De hacer una pose a necesitar ropa nueva
#28
De relajado a agotado y frustrado
#29
¿Por qué sigue sonriendo? (Rompí mi regla de no poner fotos felices en el después porque... ¡Guacala!)
#30
De lucir increíble a servir de escalón