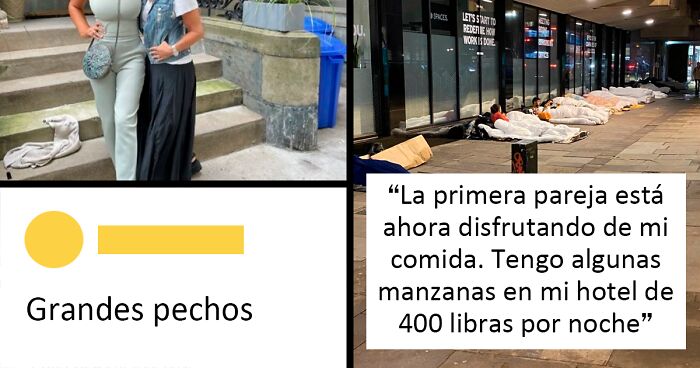 20 Publicaciones muy ridículas y fuera de lugar encontradas en LinkedIn
Hace tiempo, LinkedIn era un recurso profesional utilizado para seguir virtualmente nuestras trayectorias profesionales. Era una forma fácil de establecer conexiones con otros profesionales y de permitir a las empresas comprobar dónde estás trabajando y qué has conseguido recientemente. Técnicamente no es un sitio de redes sociales, pero en algún momento empezó a convertirse en un lugar donde la gente de éxito (usaremos esta palabra generosamente) decidió empezar a presumir de su riqueza y a compartir publicaciones increíblemente desagradables...
Ahí es donde entra en juego la cuenta de Twitter The State of LinkedIn La página llama al sitio "un caldo de cultivo de mentiras y marrullerías", así que a continuación hemos reunido algunos de los tuits más hilarantes que exponen publicaciones falsas y ridículas de LinkedIn que podrían darte vergüenza ajena. Sigue leyendo para encontrar también las entrevistas que tuvimos la suerte de hacerle a la creadora de The State of LinkedIn y LinkedIn Business Strategist, Salina Yeung.
Asegúrate de votar las publicaciones que te parezcan más atroces, y haznos saber en los comentarios si alguna vez te has encontrado con afirmaciones ridículas o francamente falsas en LinkedIn. Además, si quieres ver otro artículo en el que se detalla el pozo negro en el que se ha convertido LinkedIn en los últimos años, puedes encontrarlo aquí.
Para conocer el salvaje mundo de LinkedIn, nos pusimos en contacto con el creador de The State of LinkedIn en Twitter. Nos contaron que esta exitosa cuenta comenzó originalmente como un spin off de los premios Didn't Happen of the Year, que también hemos cubierto en Bored Panda anteriormente. "Recibimos muchas propuestas basadas en LinkedIn, y a lo largo de los años ha ido ganando tracción a partir de ahí". Ciertamente lo ha hecho. Desde que esta cuenta se lanzó en marzo de 2017, ha acumulado más de 240000 seguidores, y con el contenido ilimitado que LinkedIn tiene para ofrecer, es probable que sólo siga creciendo.
Pero curiosamente, la persona detrás de The State of LinkedIn nos dijo que realmente no usa el sitio. "Tengo un perfil, pero diría que abro la aplicación quizá una o dos veces al mes. Teniendo en cuenta las cosas que se publican, probablemente sea mejor que no la utilice", añadió con una sonrisa.
Teniendo en cuenta que LinkedIn es un tesoro de contenido deleznable, teníamos curiosidad por saber si el creador de la página tiene alguna publicación favorita que haya compartido del sitio "profesional". "Las mejores son las que tienen que ver con las cosas que han dicho sus hijos", nos dijeron. "El hecho de que la gente crea que a un niño pequeño le interesa la política mundial o lo que ocurre en Wall Street me sorprende".
Y en lo que respecta a por qué la gente publica cosas tan extravagantes en Internet, plantean la hipótesis de que todo es una táctica para ganar más seguidores. "Creo que la gente empezó a hacer sus publicaciones extravagantes por los likes y los comentarios, esencialmente más comentarios y likes te elevan en el algoritmo", explicaron. "De esta manera, su perfil es empujado a una audiencia más amplia".
La creadora de The State of LinkedIn también tiene un mensaje para todos los que comparten mensajes ridículos en LinkedIn: "¡Por favor, seguid así! Estáis haciendo feliz a mucha gente a la que le gusta la página", compartió con una sonrisa. Si después de terminar este artículo quieres ver más publicaciones de este tipo, asegúrate de seguir a The State of LinkedIn aquí. Y si quieres encontrar aún más historias extravagantes que la gente publica en Internet, puedes ver su otra cuenta, los premios Didn't Happen of the Year aquí.
La última vez que lo comprobé, los cajeros automáticos sólo dan billetes.

La típica trola de linkedIn.

Qué casualidad guardar una copia de repuesto de su libro para momentos como este.