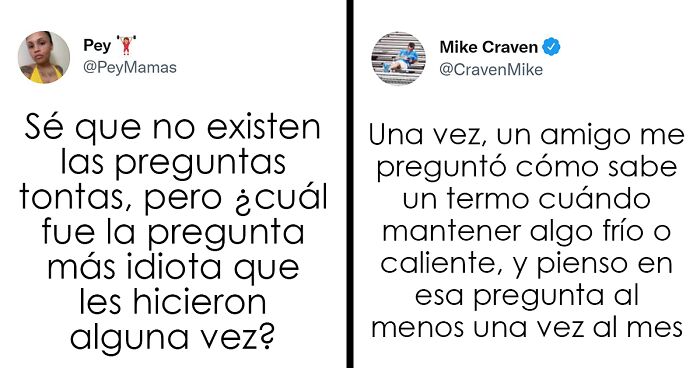 Estas personas compartieron las 20 preguntas más estúpidas que les hicieron y que los dejaron perplejos
Cuando estudiamos en la escuela o en la universidad, los maestros y los profesores constantemente nos animan a hacer preguntas, diciendo que no hay preguntas estúpidas. Pero, en el fondo, todos sabemos que las preguntas estúpidas existen y algunas personas no temen exponerlas.
Quizás la persona que ideó esa frase realmente subestimó lo estúpida e ignorante que puede llegar a ser la gente. Pero la usuaria de Twitter Pey no lo hizo. Ella quiso que la gente le contara qué preguntas estúpidas habían recibido. Y, en el hilo, había algunas tan ridículas que resultaron graciosísimas.

Image credits: PeyMamas
Image credits: Sam Davis
Todos hacemos preguntas estúpidas de vez en cuando, así que solo pasemos a reírnos con esta lista. Además, nos gustaría saber qué preguntas idiotas les han hecho. Si se sienten valientes, también pueden compartir las preguntas que ustedes hicieron y que se dieron cuenta de que no eran necesarias.
Más información en: Twitter
La usuaria de Twitter que hizo la pregunta se llama Pay: es madre, entrenadora física certificada y nutricionista. Pay explicó que realizó esta pregunta al pensar en cosas como que la gente siempre le pregunta en dónde dejó por última vez algo cuando se encuentra buscándolo y no lo puede encontrar (si lo supiera, no lo estaría buscando). El tuit no se viralizó mucho, pero sí obtuvo algunas respuestas bastantes graciosas que queríamos mostrarles.
Como mencionamos antes, los maestros suelen decir que no existen las preguntas estúpidas para evitar que los estudiantes tengan miedo de demostrar si no saben o no comprenden algo. Tratan de convencerlos de que la búsqueda de conocimiento es siempre algo bueno.
Otra frase común que la gente suele decir es que no existen las preguntas idiotas, sino las respuestas estúpidas, desplazando esta cualidad indeseada a la persona que responde. Pero, en general, esta frase existe para asegurar que la persona que busca adquirir conocimientos no sea castigada por aún no haberlos aprendido.
Carl Sagan, un estadounidense que era astrónomo, científico planetario, cosmólogo, astrofísico, astrobiólogo, autor, divulgador científico y, ciertamente, una persona inteligente, solía reflexionar sobre esta idea. En su libro The Demon-Haunted World: Science as a Candle in the Dark, escribió: "Existen las preguntas ingenuas, las tediosas, las mal formuladas y otras que se elaboran luego de una autocrítica inadecuada. Pero todas las preguntas son un pedido para comprender el mundo. No existe algo como una pregunta tonta".
Sin embargo, hay personas que discutirían eso. Por ejemplo, el genio Albert Einstein una vez dijo: "Solo dos cosas son infinitas, el universo y la estupidez humana, y no estoy tan seguro de lo primero". El físico nos dejó saber que el universo puede tener sus límites, pero la falta de inteligencia de las personas nunca dejará de sorprendernos.
Esto puede ser aplicado a nuestro tema de hoy. Si la estupidez humana es infinita, entonces las preguntas evidentemente estúpidas existen, dado que son las personas quienes las formulan.
Y aquí podemos ver la prueba de ello. Las preguntas que la gente hizo en esta lista realmente fueron innecesarias y, a veces, es difícil comprender si estaban hablando en serio o si solo bromeaban. Quizás estaría bien si fuesen niños los que las han hecho, pero debería ser algo inaceptable de parte de los adultos.
Al final del día, todos podemos estar de acuerdo en que existen las preguntas estúpidas, pero, aun así, no deberíamos enojarnos mucho con las personas que las hacen. Puede que genuinamente no supieran sobre algo, y puede ser uno quien les explique algo importante que ya deberían conocer.