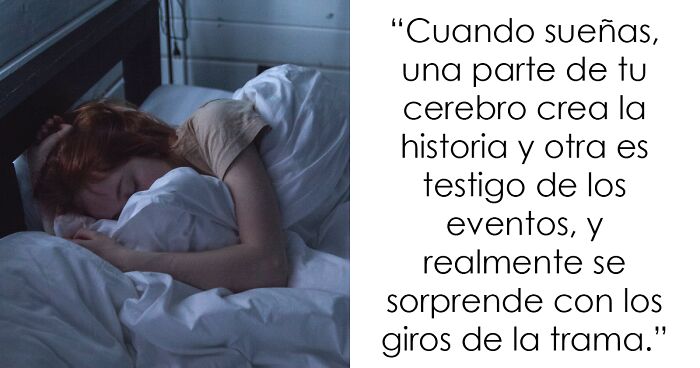 '¿Qué dato científico te parece alucinante?': 25 Increíbles datos sobre nuestro mundo
El mundo de la ciencia lleva siglos atrayéndonos. Sobre todo en los tiempos que corren, cuando una parte del público se muestra escéptico ante lo que nos cuentan los científicos. Si bien provoca una división, nos recuerda cuánto (y qué poco) sabemos los humanos sobre el mundo que nos rodea, ya sea la Tierra, el espacio, los seres vivos y las entidades que viven en ellos, o nuestros propios cuerpos.
Así que hoy nos sumergimos en una clase de ciencias alucinante donde los datos suenan demasiado locos para ser verdad. Y todo gracias al redditor AnalyzeTimes, quien preguntó: "¿Qué dato científico te parece alucinante?" en la comunidad Ask Reddit, y tenemos mucho que descubrir. Desde la Voyager 1 que ha estado viajando a más de 30 000 millas por hora durante 43 años y está a solo 20 horas luz de distancia, hasta nuestros cerebros que al mismo tiempo que crean historias, se sorprenden genuinamente por los giros de la trama mientras soñamos, estos son algunos de los mejores datos para dejarnos alucinados.
¡Echa una ojeada, vota por tus favoritos y comparte un dato científico en los comentarios que también te parezca alucinante!
Los tiburones son más antiguos que los árboles, pero los árboles casi destruyen toda la vida terrestre, ya que no había nada que pudiera descomponerlos. Así que los árboles muertos cubrían el suelo, matando a otros tipos de vegetación. Solo cuando los hongos evolucionaron, empezaron a descomponer los árboles.
Cuando sueñas, una parte de tu cerebro crea la historia y otra es testigo de los eventos, y realmente se sorprende con los giros de la trama.
Los dinosaurios vivieron en un periodo de tiempo tan vasto, que ya había fósiles de dinosaurios cuando aún vivían los dinosaurios.
Las ballenas crecen cantando una canción específica basada en dónde nacieron, pero aprenden versos de otras canciones de ballenas con las que se encuentran durante su vida.
Los hipopótamos sudan protector solar. Su sudor está hecho de un pigmento rojo y uno naranja. El rojo contiene antibiótico y el naranja absorbe los rayos UV.
Los átomos de nuestros cuerpos contienen elementos que solo se producen en los núcleos de las estrellas. Estas estrellas al morir esparcen esos elementos por el universo al convertirse en supernovas y llegan a nuestra existencia. Estamos hechos de polvo de estrellas.

Hay algunos tipos de anestesia que no te ahorran el dolor... solo te hacen olvidar que lo sentiste.
Hay una especie de medusa llamada Turritopsis dohrnii, que rejuvenece cuando se lesiona o se estresa. Así que se vuelven jóvenes otra vez, y son inmortales.
Un objeto tiene todos los colores excepto el que crees que tiene, porque es el único color que no absorbe.
No hay fotos del presente.
Cleopatra vivió más cerca del aterrizaje en la Luna que de la construcción de las Grandes Pirámides.
Si la historia de la Tierra se comprimiera en un día, los humanos no aparecerían hasta el último segundo antes de la medianoche.
Un millón de segundos son 12 días. Mil millones de segundos son 31 años. 1 billón de segundos son 31688 años.

Cuando pierdes peso, se va de tu cuerpo con la respiración. Así que si pierdes 50 kilos, has exhalado todo ese carbono.

If some sort of super-advanced alien species on a planet 80 million light years away from Earth built a high-tech telescope that let them see objects on the Earth's surface, they would be seeing dinosaurs right now.

Poder exponencial: Dobla una gran hoja de papel que tenga 0,1 mms de grosor. Tras 50 dobleces, tendrá una altura que será más de 20 veces la distancia de la Tierra a la Luna.
Si metes a uno de todos los animales en una bolsa y sacas uno al azar, tienes 1 posibilidad entre 5 de sacar un escarabajo.
Hay animales de la Edad de Hielo tan bien conservados en el permafrost, que los científicos vieron que conservaban sus tejidos suaves, pelo y órganos. Hasta un par de mamuts aún tenían sangre líquida en su interior, y recuerdo un científico que probó la carne de mamut.
El moho del limo no tiene cerebro o sistema nervioso, pero de algún modo, retiene información y la usa para tomar decisiones. Incluso pueden fusionarse con otros individuos y compartir esa información.
Los dinosaurios vivieron en el otro extremo de la galaxia al que nos encontramos ahora.
La Voyager 1 lleva 43 años viajando a más de 30000 millas por hora y solo está a 20 horas luz de distancia.

Puedes encajar todos los planetas (Plutón incluido) entre la Tierra y la Luna.
Los astronautas de la Estación Espacial Internacional no están flotando por la falta de gravedad. Están en constante caída libre sobre el horizonte de la Tierra. Les atrae la gravedad hacia la tierra.
Si el ADN de una persona cualquiera se estirara en una sola línea, iría de la Tierra al Sol y de vuelta 248 veces.
Si dos piezas del mismo tipo de metal se tocaran en el espacio, se unirían y estarían pegadas permanentemente. Soldadura espacial en frío.